A big business with a huge budget has a lot of leeways when it comes to customer ROI and marketing as they can afford to use promotions, paid placement, and other strategies to attract attention. Smaller, growing businesses need to make every marketing dollar count — and one of the easiest ways to do that is to take advantage of as many free approaches to e-commerce marketing that you can.
Social media has leveled the playing field for smaller businesses and allowed them to gain a foothold in a crowded marketplace, simply because they are free and easily accessible. Taking advantage of the power of social media for your business ensures you can stay competitive without blasting through your budget.
Here are five ways to promote your e-commerce store on social media — for free.
Choose the Right Platform
Some e-commerce brands make the mistake of trying to be everywhere, all the time. Instead of investing a small amount of time in five or more platforms, committing to only a few gives you more time to engage with followers and to promote your business.
In the first quarter of 2019 alone, Facebook had over two billion active users, making it an ideal platform to try, provided your target audience actually uses it. Other platforms like Instagram, Twitter, WhatsApp and Snapchat are not far behind. Choosing the platforms that align best with your business, will naturally give you the best results, even if you never invest a dime in promotions or paid advertising.
Encourage User-Generated Content
When a user goes to the trouble of adding a photo or video to your page to share how they've used your product, what your makeup looks like on them or how fantastic your service is, it is like a personal recommendation and endorsement. User-Generated Content, or UGC, gets your brand in front of a whole new audience.

If you ask users to share their cute pet photos — they will do so; anyone who follows them could see this interaction. UGC costs you nothing, boosts engagement and gives you an easy way to connect. When you not only accept but encourage users to share their own content, you end up with a robust library of images and more eyes on your site.
For inspiration, check out these hashtags on Instagram:
Chubbies, in particular, uses their actual customers as models which add levels of authenticity and diversity to their brand.
Tag Everything
You may already use a few tags, but consistently adding the right tags to your posts on Instagram, Twitter, and Facebook ensures the right people see your content. Every post you make should be tagged with your brand name, the type of product it is, and the relevant terms that someone might use to look for it. You can save the top terms you'll use most often in a word file and then just copy and paste at the end of your post.

Tagging is particularly crucial if you use Instagram or Pinterest. The sites both rely on visual media to attract attention and allow for easy searching by tag. Review your posting practices and begin to incorporate more relevant tags, and your images and videos will get more views without paid ads or promotions.
Here's an approach you could try:
Match evergreen hashtags (long-term) with popular hashtags (short-term) to ensure that your products are found in relevant searches. Pairing long-term hashtags with short-term hashtags is an excellent strategy to incorporate when planning your posts.
Develop Lasting, Authentic Relationships
You likely already have some customers who are active on social media — convert them into brand ambassadors by engaging with them, thanking them for posting and even sending them a perk like free shipping or a special VIP discount. The more you make users feel like they are essential to your brand, and the more you connect with them, the better. Not only does creating strong relationships help you keep customers and encourage repeat business, but those engagements also impact the algorithm of the site you are using. People see more of the things and brands they engage with on social media, so your relationships ensure you show up in as many feeds as possible each day.
Work With Micro-influencers
Micro-influencers are not the Instagrammers with massive followings who charge thousands of dollars for a post, but the individuals with substantial engagement with an audience that mimics your target demographic. Offer a blogger in your vertical an appealing item to give away, provide them with something to review or send them a look at something coming soon. They'll share your product or news with their own following, exposing your business to a whole new group of prospective followers.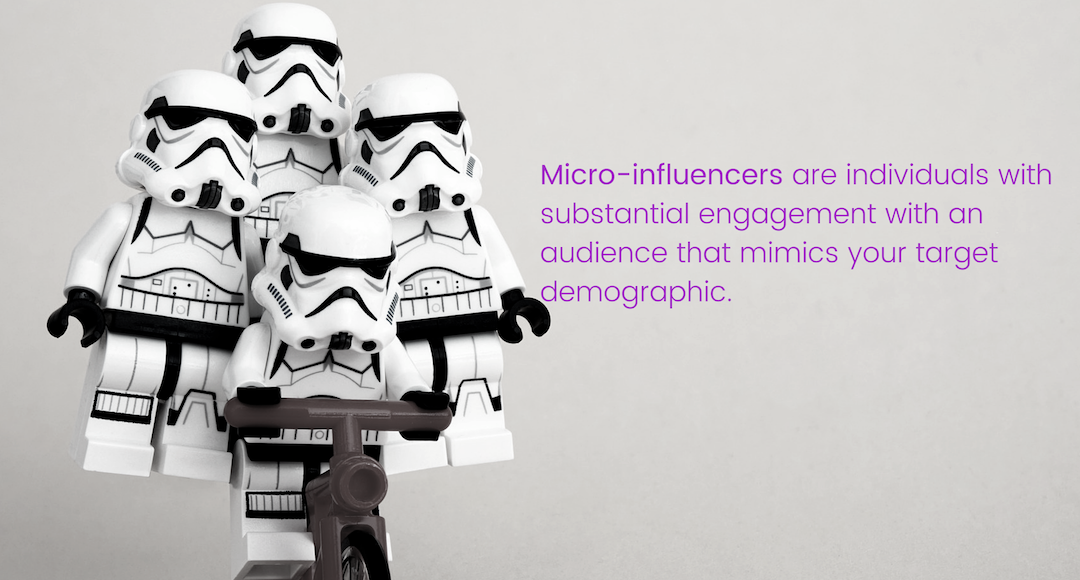 Conclusion
Any or all of the above techniques require an investment of time, but not money. You can expand your following, make a splash with a new audience, or get more involved with your existing followers without increasing your budget. This will allow you to see what methods offer your brand the best ROI and which approaches resonate best with your target audience.
Key Takeaways:
Invest time in the channels where your primary target market lives.
Leverage your customers' followers by encouraging them to share photos of their favorite products.
Take advantage of hashtags by selecting a relevant few and developing a pairing system that ensures you are found in all the right streams.
Your customers are essential to your brand, treat them as such. Even something as small as a thank you for their purchase or review can take you far.
Build symbiotic relationships with micro-influencers that can help you both attain your goals.
Once you're ready to spend a little more to acquire and retain your customers, you can give DataQ a test drive with a FREE 2-week trial. DataQ will help you target customers like your best customers and provide you with insights so that you never waste marketing dollars pursuing the wrong targets.